CBD Wellness
Regular price
Sale price
$28.00 USD
Unit price
per
Sale
Sold out
Strawberry Lemonade (Sativa)- produces happy, peaceful effects that sharpen creativity and sensory awareness.
600mg (.6g) C. Cell Cartridge
Share
Ingredients

Active Ingredients: 

Cannabidiol... 600mg

 

Gluten & Soy Free.

Kosher & Vegan Friendly

Free of ethanol and other chemicals

No addictives
How to use

Remove rubber stopper on top and bottom
Screw on to your CBD Wellness C-Cell Battery or any other C-Cell battery (don't screw on to tightly, just until its snug)
Inhale through the mouth for minimally 8-10 seconds
Exhale and feel the effects

Manufacturer of this product takes no responsibility for the misuse of this product. Hemp Derived.
Shipping

USPS standard 2-5 business day shipping.

Free delivery on orders over $50
View full details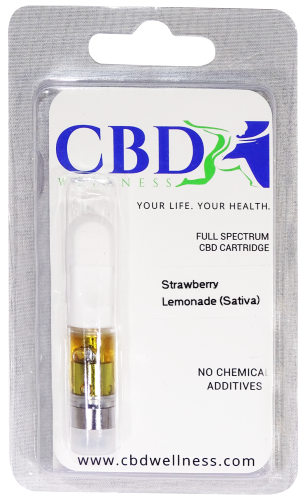 From seed to sale, each step of the process to make this premium formula has been observed with meticulous care. From sustainable cultivation and harvesting, to proprietary extraction, proprietary formulation from our Chief Scientist and good manufacturing practices, you can rest assured knowing you're getting the best of the best with this vapes.
Contains 0.3% or less THC

30 Day Satisfaction Guarantee

Free shipping on orders $50+
Doctor & Scientist Formulated
Each of our products has been carefully formualted by our Owner and Chief Scientist Dr. Matthew Scott PhD & DHSc.
FAQ: CBD VAPES
What are CBD Vapes and what differentiates flower from vapes?

CBD flower is the raw, organic, cultivated phytocannabinoid rich hemp buds or flower. They typically contain around 20% CBD with the remaining compounds other cannabinoids, terpenes, and other fatty acids and oils all natural to the cannabis plant. CBD flower is used by smoking it in its raw form, usually by grinding the flower up and putting in a pipe or rolled in a joint.

CBD Vapes are created by extracting the cannabinoids, terpenes, and other oils from the raw cannabis flower. We use supercritical Co2 extraction and refine the raw oil through a process called distillation. This results in a full spectrum CBD-rich oil that typically contains around 85% CBD-rich cannabinoids. This oil is then formulated and infused with cannabis terpenes to create the vape strain, the vape strain plays a role in its effects. Our CBD Vape cartridges then get screwed on to a vape pen which heats the oil, allowing you to easily inhale the oil.

Either option provides almost immediate effects because the CBD goes directly into the bloodstream via inhalation. The main difference is the potency. CBD Flower has a lower CBD content than the extracted CBD oil in our Vapes.
Can CBD Vapes or Flower make you fail a drug test?

One of the most common questions asked is whether using CBD Wellness's Vapes or Flower will cause you to fail a drug test. There are a lot of adults out there who would use cannabis if they could, but because of drug testing policies at their places of employment, they are forced to refrain.

Many switch to CBD vapes and flower for something to smoke socially, help alleviate pain & inflammation, reduce anxiety & stress, or just to help them unwind without risking their jobs. That said, the risk of failing a drug test because of CBD vapes or flower use is extremely unlikely, with an emphasis on the "extremely" part. If you buy flowers from reputable companies whose lab reports you can trust, then you probably won't fail a drug test. In fact we've had countless regular CBD Wellness users report they've been using our products for years and never failed a drug test.

Drug testing for marijuana solely test the metabolites produced by the body in reaction to THC. Since our products only contain a trace amount of legal THC (0.3% or less) it would be almost impossible for your body to produce the metabolites that are triggered by the high levels of THC associated with marijuana.
Do CBD Vapes or Flower get you high?

No. It's scientifically impossible.

That said, many people swear they feel a high or buzz from our CBD Vapes and flower they smoked. We believe many confuse the euphoric feeling as being high. THC (tetrahydrocannabinol) is the psychoactive compound in cannabis marijuana that causes the associated high. Our CBD Vapes and Flower strains only have trace amounts of THC (0.3% or less), meaning you will NOT feel any intoxication or high.

CBD interacts with different neurotransmitters in the central nervous system, resulting in different effects than THC. While our CBD Vapes and Flower are known to make people feel relaxed and even euphoric at times, it doesn't impact the brain in the same way THC does. Meaning you cannot not get high from smoking our CBD Vapes or Flowers.
How do CBD Vapes or Flower make you feel?

CBD Vapes or Flower won't get you high as previously discussed. They will, however, certainly help you relieve pain & inflammation, reduce or eliminate stress & anxiety which effectively allows you to relax and unwind. Exact effects vary depending on the strain, generally CBD Vapes or Flower can make you feel calm and peaceful while maintaining a clear head and higher level of focus.

Relaxation is one of the many reasons people use our CBD Vapes or Flowers, as they are very effective for managing anxiety. Although there is not currently a lot of research studies on the effectiveness of CBD to treat the various conditions its touted for, anxiety is one disorder that actually has a lot of research behind it proving its effectiveness.
Do you smoke CBD Vapes and Flower?

Yes, in fact smoking CBD Vapes and Flower is the preferred method of consumption for these products. You can smoke CBD Flower any number of ways just like marijuana cannabis. It can be smoked in a pipe/bowl or bong, and it can be rolled into a joint or
blunt.

Some people prefer vaping over smoking. It's believed to be safer because you can control the temperature, setting it lower so the plant matter doesn't get burned, which could release toxins and carcinogens that are found in smoke of any kind.
Are CBD Vapes and Flower safe?

As far as smoking goes, CBD Vapes and flower are one of the safest smokeable products. The long-term health effects of smoking cannabis are minimal, especially in comparison to cigarettes. Tobacco smoke can lead to numerous, lifelong health conditions impacting the lungs, mouth, throat, liver, and many other parts of the body. Experts indicate that smoking any plant matter could contain risks, most agree that it's safe as long as it's a high quality product. The risk associated with smoking CBD vapes or flower really comes down to the source.


There are a lot of unreputable pop up companies who will sell anything to make a buck, always make sure you are buying from a reputable, well known and established CBD company.

What about in comparison to OTC and prescription medications, considering so many people use CBD Vapes and Flower medicinally? Again, the safety profile of our CBD Vapes & Flower is quite good. While most medications, both over-the-counter and prescription, can have some really nasty side effects. Opioids have been known to result in devastating issues with addiction and deaths, even Tylenol is notoriously unsafe, causing lifelong liver damage.
What is the best CBD Vape or Flower?

We get asked this question a lot. "What is the best CBD Vape or flower?" Or "what strain should I get?" Honestly, this depends on way to many factors to be able to accurately answer. That said, we can help you decide which strain is best for you by giving you some things to consider when choosing your Vape or Flower strain.

What are you using the Vape or Flower for – recreational or medicinal?
What effects or benefits are you looking to get?
Are you new to smoking Vapes or Flower?
What kind of flavors do you like, are there any genetics you normally prefer?
Are you a novice user or seasoned smoker? For example, I use marijuana and hemp recreationally, one of my favorite strains is blue dream. That narrows it down to certain terpene profiles and strains that have the highest levels of cannabinoids.

Many times it's best to buy several different strains of Vapes or Flower. This way you can try different ones out and find what strain you enjoy and which strains provide you with the best benefits and effects.
Do CBD Vapes and Flower smell or taste like anything?

CBD Vapes only produce a slight, barely noticeable smell once exhaled. Depending on the strain it can smell earthy, sweet, fruity or any number of other aromas.

Our CBD Vapes are packed with flavor and taste amazing. Our Vapes are formulated with pure CBD-rich PCR extract, our Chief Scientist then uses certain terpenes to reconstruct any number of different strains. Some of these may be better for sleep (indica), while others are made to boost energy (sativa), we also create hybrid Vapes which contain elements of indica and sativa profiles.

Remember, CBD Vapes are a more concentrated form of CBD Flower.

Many find our CBD Flower to have amazing smells (especially if you enjoy the natural aroma of cannabis). Since smell translate to flavor, it also tastes amazing! Many confuse our CBD Flower with marijuana. This is because they are both cannabis, the only difference is the defining level of THC that defines hemp from marijuana. It's literally cannabis minus the THC, CBD flower has many of the same terpenes and flavonoids, thus resulting in similar flavors and aromas. The same principal applies here as with any cannabis, the lower the quality of the flower, the less pronounced the flavor and smell will be.

There are a few things you can do to help improve or maintain the flavor and smell of your Flower. First and foremost, storage. To prolong the life of your flowers, you'll want to keep them in high-quality (airtight if possible) glass jars. Another thing that has a huge impact on the flavor is moisture. If your Flower is dry and crumbly, they will lack flavor.
Do CBD Vapes or Flower come in indica and sativa?

Yes, we formulate a wide range of CBD Vapes which includes indica, sativa and even hybrid strains.

We also cultivate a wide variety of different PCR CBD-Rich hemp strains, which include indica, sativa, and hybrid.
Are CBD Vapes and Flower legal?

YES! Every product CBD Wellness cultivates, and manufactures is legal in the United States, including our CBD Vapes and Flower. The laws surrounding cannabis hemp are notoriously confusing, but simply put, hemp defined at 0.3% or less THC is legal nationwide. The 2018 Farm Bill officially legalized CBD Vapes, Flower, and other hemp derived product at the federal level.
More Questions?

Our CBD Wellness educators are standing by and ready to help. Call or text (520) 429-9618 or email us at contact@cbdwellness.com