CBD Wellness Topical Liniments
Spray & Feel Relief!
Organic alcohol infused with our highly effective CBD oil & a blend of natural essential oils, our topical liniment sprays are fast acting and reach further into the body helping with relief of deep muscle pains & aches. Most patients notice the pain relieving effects within seconds of application.
Our liniment sprays are also great for sanitizing your hands due to the properties of the alcohol base.
Reach those deep pains and sanitize to reach your optimal well-being!
Original Liniments
Fast, easy and powerful! Our original liniments have been the go to product to help relieve pain deeper than any other natural topical on the market!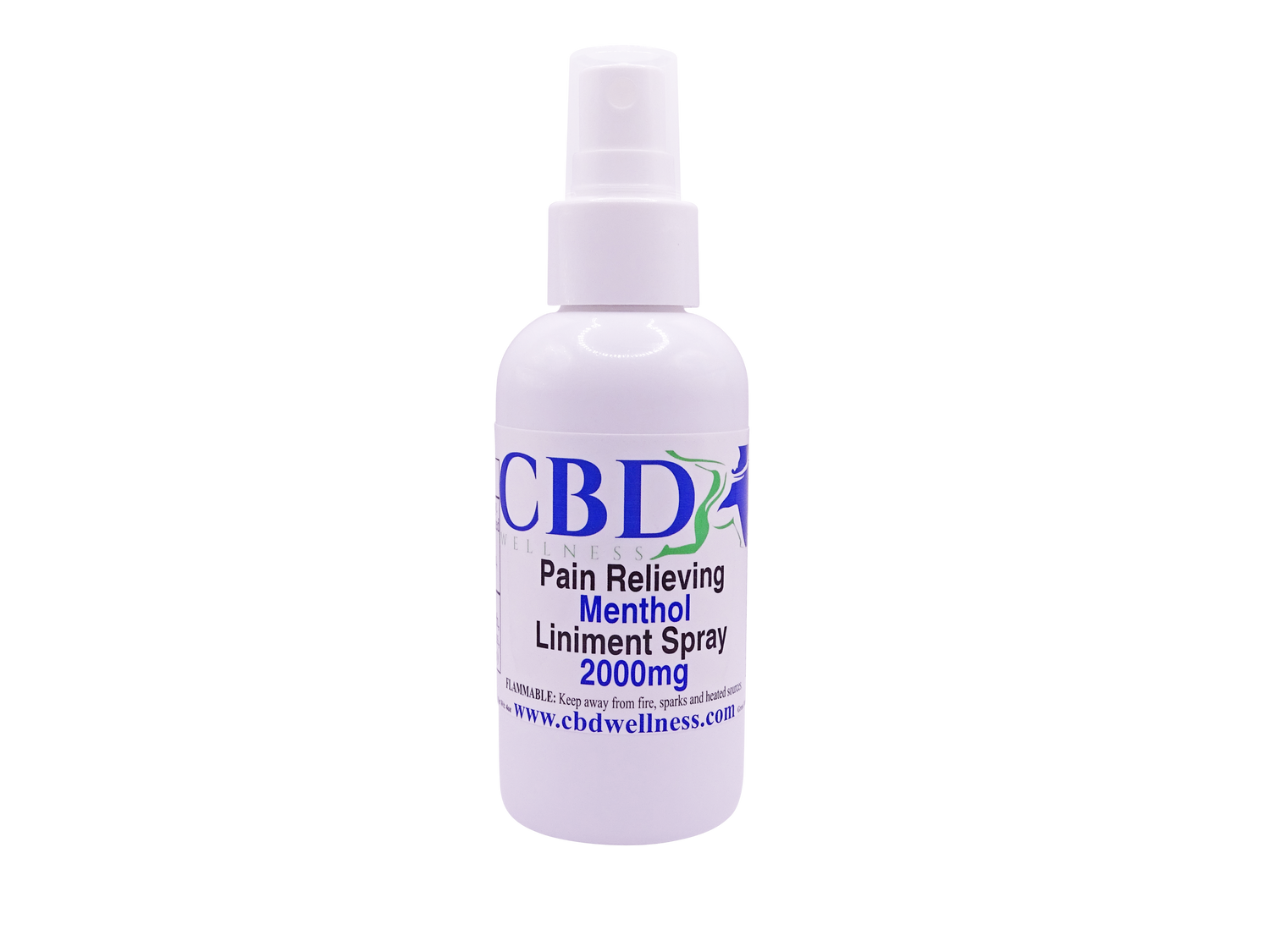 Menthol Liniments
Needing some extra pain relieving power? Formulating natural menthol to our already powerful liniment, adds an increased effectiveness, cooling and soothing the inflicted area(s).
FAQ: Topical Liniments
What is a CBD Wellness topical liniment?

CBD Wellness formulates a wide variety of unique, fast acting, effective CBD topical's designed for a wide range of benefits used for topical application. One of our most popular topicals is known as Liniments, extremely effective for relieving pain & inflammation fast!

CBD Wellness's organic topical Liniments are all natural, made by infusing our phytocannabinoid CBD-rich oil in a combination of organic alcohol, terpenes, and our propriety formula of organic essential oils.

CBD Wellness is a pioneer in effective product formulations, we were the first company to bring CBD Liniments to market. Many have tried to imitate, but none even come close to the high quality, effectiveness CBD Wellness products create.

Liniments have been used around the world for hundreds of years and defined as; a medicinal preparation in an alcohol carrier, intended to be rubbed on the skin as a counterirritant (enhances blood flow, reduces inflammation) or anodyne (analgesic, pain reliever).
What is the recommended use for CBD Wellness' Liniment?

Liniments can be used on there own or combined with our Salves for even stronger relief.

CBD Wellness Liniments have been formulated to cover a wide variety of uses, as such they can be recommended for various needs. Our CBD Liniments main use is to help relieve pain & reduce inflammation, FAST! Millions of people suffering from arthritis & neuropathy have found just how amazing the relief really is. Reporting they have used countless prescribed pharmaceuticals as well as over the counter remedies and never received the relief they get when using CBD Wellness. Getting these reports from our customers is what drives us to do what we do.

Our CBD Liniments are also amazing for relieving joint pain (knees, elbows, hands, feet), sore muscles, restless leg syndrome, and pulled or strained muscles. Our liniments permeate the blood brain barrier carrying with it the benefits of our CBD, terpenes and essential oils, this makes Liniments a great way to relieve even the deepest pains associated with neck pain, back pain, and sciatic related pain.

Lastly, our Liniments have germ and disinfecting killing properties effectively sanitizing whenever needed. With the Covid-19 epidemic, customers especially appreciated this.
How much CBD Wellness liniment should I use?

CBD Wellness' Liniments are formulated to be used as needed. We recommend spraying 2-4x's to the affected areas. Reapply throughout the day as needed, whenever you desire relief.
How do I use CBD Wellness Liniments?

CBD Wellness Liniments products should be applied (sprayed) directly on the skin, wherever you need relief (keep away from eyes and mucus membranes). Liniments should be applied as needed to relieve discomfort associated with pain & inflammation.
What do CBD Wellness Liniments do?

CBD Wellness Liniments are absorbed directly into the skin. They target the affected area relieving pain & inflammation fast.
Will CBD Wellness Liniment get me high?

No, it's scientifically impossible. CBD Wellness' Liniments are derived from PCR hemp, which cannot elicit a psychoactive experience.
Are there any side effects from using CBD Liniments?

No. There are no known side effects to using our CBD Liniments.
How long does it take for CBD Liniments to work?

CBD Wellness Liniments work fast, like extremely fast! Typically our liniments begin providing relief within seconds of topical application, as long as you sprayed enough. So, if you're not getting enough relief try spraying a little more than the first time. For severe pains we recommend applying our CBD salve over our sprayed Liniments.
How long do CBD Wellness Liniments last?

Typically, our Liniments will last several hours. Most users report relief after an application lasting 2-6hrs.
Some with more severe issues may find it only relieves for a few hours before having to respray.
What is the shelf life of a CBD Wellness Liniment?

All of our liniments have a minimum 2 year shelf life from the date they were made. All products have a batch sticker, which has the expiration date.

Store your CBD Liniments in a dry, cool area and out of direct sunlight.
More Questions?

Our CBD Wellness educators are standing by ready to help. Call or text (520)-429-9618 or email us at contact@cbdwellness.com
Enhance your facial glow
Regular price

$32.00 USD

Sale price

$9.60 USD

Unit price

per

Regular price

$32.00 USD

Sale price

$9.60 USD

Unit price

per

Regular price

$30.00 USD

Sale price

$9.00 USD

Unit price

per