CBD Wellness Topical Salves/Balms
Powerful Pain Relief & First Aid Care
Products such as our CBD tinctures or capsulesare great to support overall wellness, but if support is needed at the moment, then topicals such as our CBD salve and balms are the products you need.
These salves are great for treating local conditions; the effects target the area of the body on which they're applied. Such as Upper Neck/Back, Lower Back, Headaches/Migraines, Muscles, Tendons, & Joints. They have also been highly effective with Dry Skin, Poison Ivy, Poison Oak, Psoriasis, Fungal & Bacterial Skin Infections.
Enjoy doing all your favorite activities without having pain stop you
Summer Heat Warning!
Due to extreme Arizona heat, salves may arrive melted. This will not interfere with the effectiveness of the product. Simply leave your products at room temperature for an hour or refrigerate for 20-30 minutes prior to use.
You can always visit our location:
4140 W. Ina Rd Ste. 168 Tucson, AZ 85741
Original
Our Original salve is one of our first products we launched back in 2010 and has helped millions from mild pain up to more severe chronic pain. Our original formulation has also helped many with skin ailments & conditions making you feel and look your best.
Voted Best CBD Topical year after year.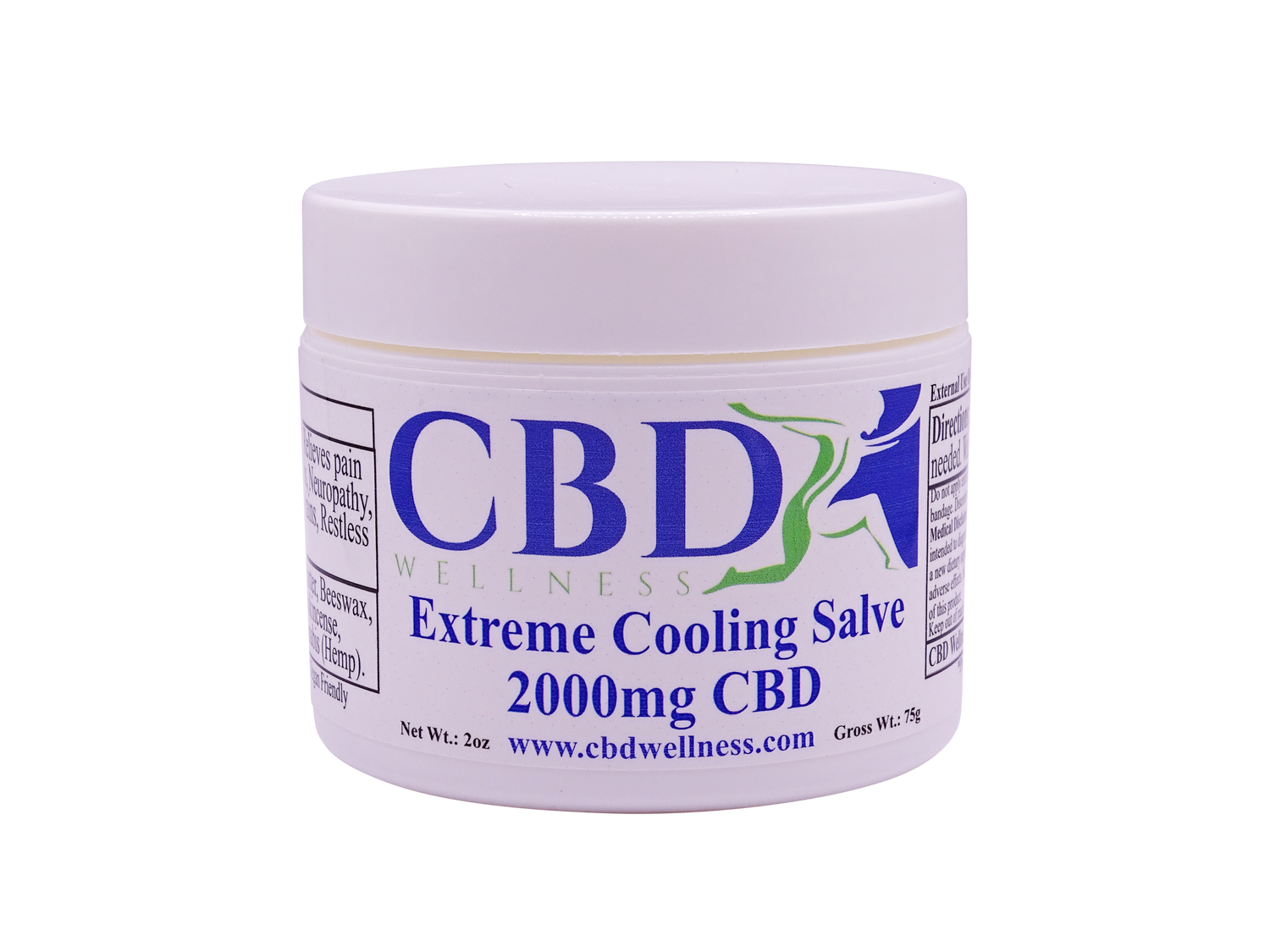 Extreme Cooling
The amazing pain relieving effects of CBD is combined with natural menthol in order to create this powerful pain reliever. The extreme cooling sensation will cool those inflammed areas of pain reaching deep into the body which is able to target nerve pain.
Lavender
Pain relief as well as aromatherapy in the same jar! Our Lavender balm is great to relieve those pains and aches, but massaging a small amount to your temples before bed will allow the natural lavender & eucalyptus scent to put your mind at ease.
Stay in charge of your life!
Whether you're an athelete, starting a new workout rountine or just trying to keep up with the kids, our salves & balms can help relieve your pain so you can keep up every step of the way!
FAQ: Salves & Balms
What is a CBD Wellness topical Salve (or Balm)?

CBD Wellness formulates a wide variety of unique, fast acting, effective CBD topical's designed for a wide range of benefits used for topical application.

One of our most popular topicals are known as Salves (also referred to as Balms).

CBD Wellness' organic topical salves are all natural, made by infusing our phytocannabinoid CBD-rich oil in a combination of coconut oil, beeswax, shea butter, terpenes, and our propriety formula of organic essential oils.
What is the recommended use for CBD Wellness topical salves?

CBD Wellness topical salves have been formulated to cover a wide variety of uses, as such they can be recommended for various needs. Our CBD salves are formulated to help relieve pain & reduce inflammation. Millions of people suffering from arthritis & neuropathy have found just how amazing the relief really is. Reporting they have used countless prescribed pharmaceuticals as well as over the counter remedies and never received the relief they get when using CBD Wellness. Getting these reports from our customers is what drives us to do what we do.

Our CBD Salves are also amazing for relieving joint pain (knees, elbows, hands, feet), sore muscles, restless leg syndrome, and pulled or strained muscles.

Plus, they are fantastic for anti aging benefits, keeping your largest organ (skin) hydrated and healthy.

Lastly our topical salves have healing properties, they help heal cuts & scrapes faster, minimize scaring, and reduce the appearance of scars and stretch marks.
How much CBD Wellness topical salve should I use?

CBD Wellness' CBD Topical salves are formulated to be used as needed. We recommend applying (rubbed/massaged) a quarter size amount of CBD salve to the affected areas. Reapply throughout the day as needed whenever you desire relief.
How do I use CBD Wellness topical salves?

CBD Wellness topical salve products should be applied (rubbed/massaged) directly on the skin, wherever you need relief. Topicals should be applied as needed to relieve discomfort associated with pain & inflammation and support healthy skin.
What do CBD Wellness topical salves do?

CBD Wellness topical salves are absorbed directly into the skin. They are able to target the affected area relieving pain & inflammation fast, as well as a wide variety of other uses & positive health and wellness benefits.
Will CBD topical salve's get me high?

No, it's scientifically impossible. CBD Wellness's topical salves are derived from PCR hemp, which cannot elicit a psychoactive experience. Furthermore topical salves do not permeate the blood brain barrier.
Are there any side effects from using CBD topical salves?

No. There are no known side effects to using CBD salves.
How long does it take for CBD topical salves to work?

CBD Wellness topical salves work fast! Typically our salves begin providing relief within 15mins of topical application, as long as you applied enough. So, if your not getting relief try applying a little more than the first time.

For deeper pains that the salve may not be able to penetrate completely for relief, we recommend applying our CBD Liniments first, then applying salve over it.
How long do CBD Wellness topical salves last?

Typically, our CBD salves will last several hours. Most users report relief after application lasting 4-8hrs. Some with more severe issues may find it only relieves for a few hours before having to reapply.
What is the shelf life of CBD Wellness topical salves?

All of our products have a minimum 2-year shelf life from the date they were made. All products have a batch sticker, which has the expiration date.

Store your CBD salve in a dry, cool area and out of direct sunlight.
More Questions?

Our CBD Wellness educators are standing by ready to help. Call or text (520)-429-9618 or email us at contact@cbdwellness.com
Enhance the effectiveness with
CBD Topicals & Salves
Relief Where You Need It Most
The human body includes a miraculous combination of systems working together to carry us through life. When you feel discomfort, aches, and pains, it's your body's way of telling you something is wrong. While you should take the time to investigate and recover, there's no reason to live with pain in the meantime.
At CBD Wellness, you'll find a range of premium, hemp-derived CBD products designed to help you manage your health and wellness needs. While we proudly offer smokable and ingestible products that deliver whole-body relief, you may need something more for target areas.
Our CBD topicals are designed to provide localized relief where applied, whether you hope to soothe irritated skin or ease muscle tension. Topicals are great for everything from aches and pains to post-workout recovery to a range of skin concerns, and CBD Wellness has the effective, natural salves and balms you prefer.
Benefits of Choosing CBD Topicals
Consumers often consider CBD salves and balms for targeted symptom relief, but you'll enjoy a bevy of benefits when you choose topical products from CBD Wellness. First and foremost, all of our products feature the natural ingredients our customers prefer.
In addition to premium-grade CBD, our topicals include ingredients like organic beeswax, shea butter, coconut oil and natural essential oils. You'll never find artificial chemicals, dyes, fragrances, or preservatives that could cause irritation. The result is emollient and aromatic products that effectively meet your needs.
Our topical products are kosher, vegan-friendly, and free of gluten and soy, and they're easy to apply and soothing on the skin. We also offer dual-effect products that provide both pain relief and cooling sensations for optimal results.
With a variety of strengths to choose from, every customer will find just what they're looking for. If you want to enjoy your favorite activities and live your best life without pain slowing you down, CBD Wellness topicals are the perfect complement to the whole-body relief of smokable or ingestible products.
Our Products
CBD Wellness proudly offers an array of natural, high-quality CBD topicals designed to provide a positive and satisfying experience for every customer. Whether you're looking for ways to ease aches and pains, hope to soothe irritated skin, or both, our products feature premium ingredients and proven proprietary formulations that are safe and effective.
Choose from our renowned collection of salves and balms, available in a variety of strengths, to enjoy the targeted relief that perfectly suits your needs and preferences.
Original CBD Salves
Our Original CBD Salve has been delivering targeted relief and impressing customers for over a decade since it launched back in 2010.
Formulated using sustainable ingredients and proprietary extraction techniques, this luxurious salve delivers the richness and lightly aromatic appeal that will put you at ease from the moment you apply it.
Each jar contains the natural ingredients customers are clamoring for, including coconut oil, shea butter, beeswax, vitamin E oil, jojoba, and more, along with a range of pleasantly smelling essential oils, such as lemon and lavender.
Our original salve, available in various strengths, is an ideal option for melting away localized aches and pains and simultaneously pampering your skin.
Extreme Cooling Salves
When muscles and joints are beset by deep-seated aches or inflammation, it can be hard to participate in activities you enjoy or even keep up with the demands of daily life. With our Extreme Cooling Salve, you'll not only enjoy targeted relief where you need it most, but you'll benefit from a cooling sensation that enhances efficacy.
This collection of CBD topicals includes emollients like coconut oil, shea butter, beeswax, vitamin E oil, and jojoba, paired with soothing arnica and cooling menthol. It also includes premium CBD in various strengths, so you can choose the right product for your specific needs.
Lavender Balm
If you're looking for an emollient product that really seals in moisture, you're sure to love our Lavender Balm, formulated with a combination of oils and beeswax that will leave your skin soft and hydrated.
Not only will this product help ease discomfort and protect the skin barrier, but calming lavender and eucalyptus scents deliver aromatherapy perfect for diminishing daytime stresses or promoting nighttime relaxation.
Imbued with new mgs of premium CBD, this balm offers the perfect opportunity to soothe sore muscles and irritated skin alike, all while delivering the tranquil and rejuvenating aromas of natural essential oils.
Complementary Products
At CBD Wellness, we take a holistic approach to providing the premium health and wellness products every customer deserves. In addition to CBD salves and balms, we offer a range of other topical and consumable products, from bath and beauty items to smokable hemp to tinctures, gummies, and more.
Whether you're interested in whole-body relief or targeted effects, we have everything you need to support your personal wellness goals.
Other Topical Products
If you already use our salves and balms, you're sure to enjoy other CBD topicals, including liniments, bath bombs, and beauty products.
Our liniment sprays are the fast, easy way to enjoy powerful relief, with both original and menthol formulations available in strengths of new mgs. For on-the-go application, there's no better solution than a convenient liniment spray.
If you're looking for a natural way to soothe aches and skin irritations, CBD Wellness full-spectrum bath bombs in lavender or eucalyptus offer the opportunity to pamper yourself and enjoy deep relaxation. Let your troubles melt away as you luxuriate in warm waters enhanced by natural plant oils and premium CBD.
Don't forget to show your face some love with CBD-infused serum and night cream. These beauty staples are designed to hydrate and improve skin quality, with natural ingredients suited to sensitive skin. Our unscented lotion is perfect for saturating every inch of skin with lasting hydration.
Smokable CBD
If you're looking for fast, whole-body relief, inhaled products like hemp flower and vape products are the ideal choice. CBD Wellness offers several strains of hemp flower, which is naturally high in CBD but contains 0.3% or less THC, in keeping with standards set forth in the 2018 Farm Bill.
Our flower is 100% organically grown in the U.S., and we're pleased to offer the high-grade medical cannabis our customers prefer. You'll never find chemicals, additives, or synthetic components in our products, and our flower is cultivated with sustainability in mind.
If you want on-the-go convenience, vape cartridges featuring premium CBD oil and natural terpenes deliver your preferred consumption experience. You're sure to love delectable flavors like birthday cake, strawberry lemonade, and more.
When used in concert with CBD salves and balms, these products help you to address your every wellness need.
Ingestible CBD
For a discreet and easy means of achieving whole-body relief, you'll want to consider products that can be ingested, including tinctures, capsules, and gummies.
Both capsules and gummies are a good bet for those new to the world of CBD, as they offer preset serving sizes that make it easy to start small and scale up to desired results. Gummies also come in tasty fruit flavors of assorted bears and more.
For more seasoned CBD customers, tinctures allow for greater control over serving sizes, and drops can be taken sublingually or added to beverages for appealing consumption. With pleasant flavors like lemon and peppermint and a range of strengths, our selection of ingestible products offers something for everyone.
FAQs
Whether you're just starting to explore the benefits of CBD or you're a long-time fan, you may have questions about the logistics of including topicals as part of your daily routine. Here are a few FAQs to help you make informed decisions about your health and wellness regimen.
What Is a CBD Topical?
Topical products include salves, balms, lotions, serums, and more designed to be applied directly to the skin. All-natural CBD topicals from CBD Wellness are formulated to deliver localized, fast-acting relief from aches, pains, and skin irritation with premium hemp CBD and natural emollients like coconut oil, shea butter, and essential oils.
Who Should Use CBD Topicals?
Among the most popular reasons consumers choose CBD topicals is symptom relief associated with aches, pains, and inflammation.
Whether you're athletic, lead an active life, or are dealing with chronic discomfort, applying topical products can deliver the targeted relief you seek and enhance the effects of inhaled or ingested CBD products. CBD salves and balms can also help to soothe and hydrate irritated skin.
How Do I Use CBD Topicals?
Salves and balms are designed to be applied directly on the skin in areas where you need relief. We recommend that you rub or massage a quarter-size amount of CBD Wellness topicals on affected areas 1-4 times a day, washing your hands after each use.
These products are designed to be used as needed and may be reapplied throughout the day.
How Do CBD Salves Work?
CBD topicals penetrate the skin to provide desired relief for sore or inflamed muscles and joints in the areas where applied. They also help hydrate and soothe irritated skin.
Will I Get High from CBD Topicals?
The beauty of choosing hemp CBD salves and other products is that you never have to worry about psychoactive effects like feeling high. These products contain 0.3% or less THC, the cannabinoid responsible for psychoactive effects, so you still enjoy the benefits of full-spectrum products but without intoxication.
In addition, topicals do not permeate the blood-brain barrier to directly affect your mental state.
Are There Any Side Effects Associated with CBD Salves?
CBD products are generally considered safe, and any potential side effects are mild and temporary. CBD topicals feature no known side effects, but it's always best to use products as directed.
How Long Does It Take for Topical Products to Work?
When using CBD salves and balms, you can generally expect the onset of relief within about 15 minutes of application. If you don't feel relief, it's possible you didn't apply enough product, in which case you may reapply more liberally. Pairing salves and balms with other products like liniments will improve outcomes.
How Long Do Effects Last?
CBD Wellness topicals are designed to deliver fast-acting and long-lasting relief. Our customers report feelings of relief lasting anywhere from about 4-8 hours after application, although results will vary by user. When the effects fade, you may reapply the product for continued relief.
Do CBD Topicals Expire?
All CBD Wellness salves and tinctures are sold with a batch sticker that includes the expiration date. You can anticipate a minimum shelf life of two years, provided you store products in a cool, dry area away from direct sunlight.
More Questions?
If you have any questions concerning our CBD salves, balms, or other products you don't see answered here, our dedicated team is happy to help. Call or text any queries to 520-429-9618 or email us at contact@cbdwellness.com.
Why Choose CBD Wellness
CBD Wellness is a fully-integrated operation dedicated to overseeing every step of the process that brings our natural, high-quality CBD products to the marketplace. We pride ourselves on sustainable cultivation practices, proprietary extraction techniques and product formulations, and testing to ensure safety and efficacy.
With an eye toward full transparency, we provide certificates of analysis for your peace of mind so you always know what you're getting.
Every aspect of our operations follows our core values of delivering premium products, competitive pricing, and the highest level of customer care. Supporting your well-being is our top priority, which is why we go above and beyond to deliver the quality products you crave, including a range of safe and effective CBD topicals.
No matter what life throws your way, you deserve to live with vitality. CBD topicals from CBD Wellness allow you to thrive with relief that puts you in control of your own health and wellness. Contact us today to learn more about our premium CBD products and how they can benefit you.
Choosing a selection results in a full page refresh.
Opens in a new window.