CBD Wellness
Regular price
Sale price
$40.00 USD
Unit price
per
Sale
Sold out
Having trouble sleeping? Tossing and turning all night making you sleepy throughout the day? 
Our CBN-Rich Tincture is formulated to help you physically and mentally relax at the end of your day to help you receive a better night's sleep.
 Cannabinol (CBN)- Is another non-psychotoxic cannabinoid that is very similar to the effects of CBD. CBN will assist with reducing inflammation but is extremely effective with providing rest & relaxation assisting with sleep, anxiety, calmness. This compound typically represents 1%-2% of the plant's compounds.
Each 'CBD Wellness' 1000mg CBN-Rich Tincture is formulated with an activated, set, standardized cannabinoid profile containing:
700mg CBN (Cannabinol)
200mg CBD (Cannabidiol)
50mg CBG (Cannabigerol)
50mg CBC (Cannabichromene)
Making them unlike any other tincture on the market, which provides more effectiveness towards your health and well-being.
1oz Bottle
Share
Ingredients

Active Ingredients: 

Cannabinol... 700mg

Cannabidiol... 200mg

Cannabichromene... 50mg

Cannabigerol... 50mg

Inactive Ingredients: Sunflower, Cannabis (Hemp)

Serving size- 1ML (about 30 droplets.)

Servings per container: 30

Cannabinoids per servings: 23.3mg CBN, 6.6mg CBD, 1.6mg CBC, 1.6mg CBG

100% Natural & Organic

Gluten & Soy Free.

Kosher & Vegan Friendly.
How to use

1 Dose (full dropper) under tongue 1-4x a day as a daily regimen & as needed.
Start with half a dose, .5 ml (about 10 droplets) under tongue until aware of effects.
Allow 45-90 minutes for effects.

Manufacturer of this product takes no responsibility for the misuse of this product. Hemp Derived.
Shipping

USPS standard 2-5 business day shipping.

Free delivery on orders over $50
View full details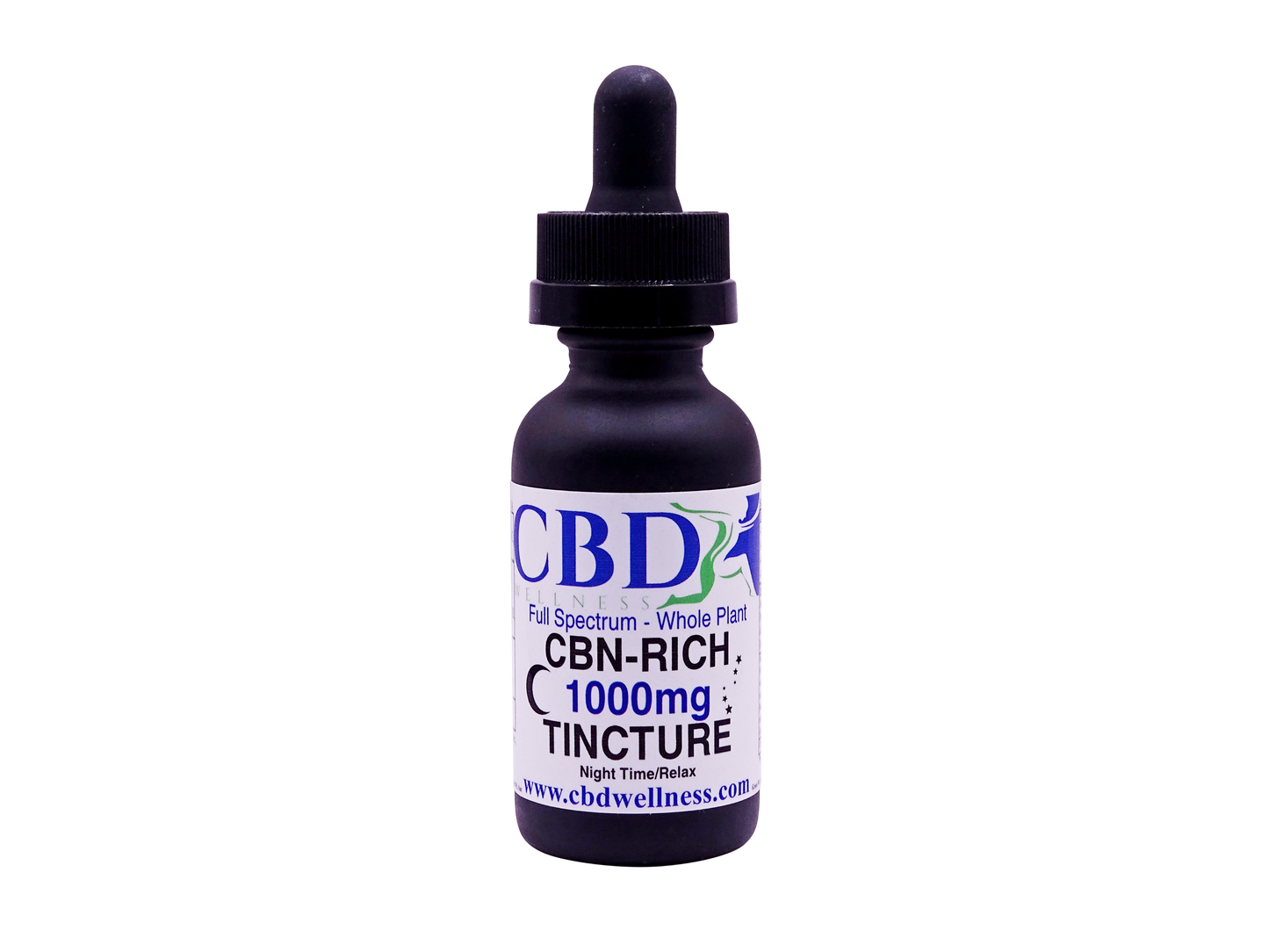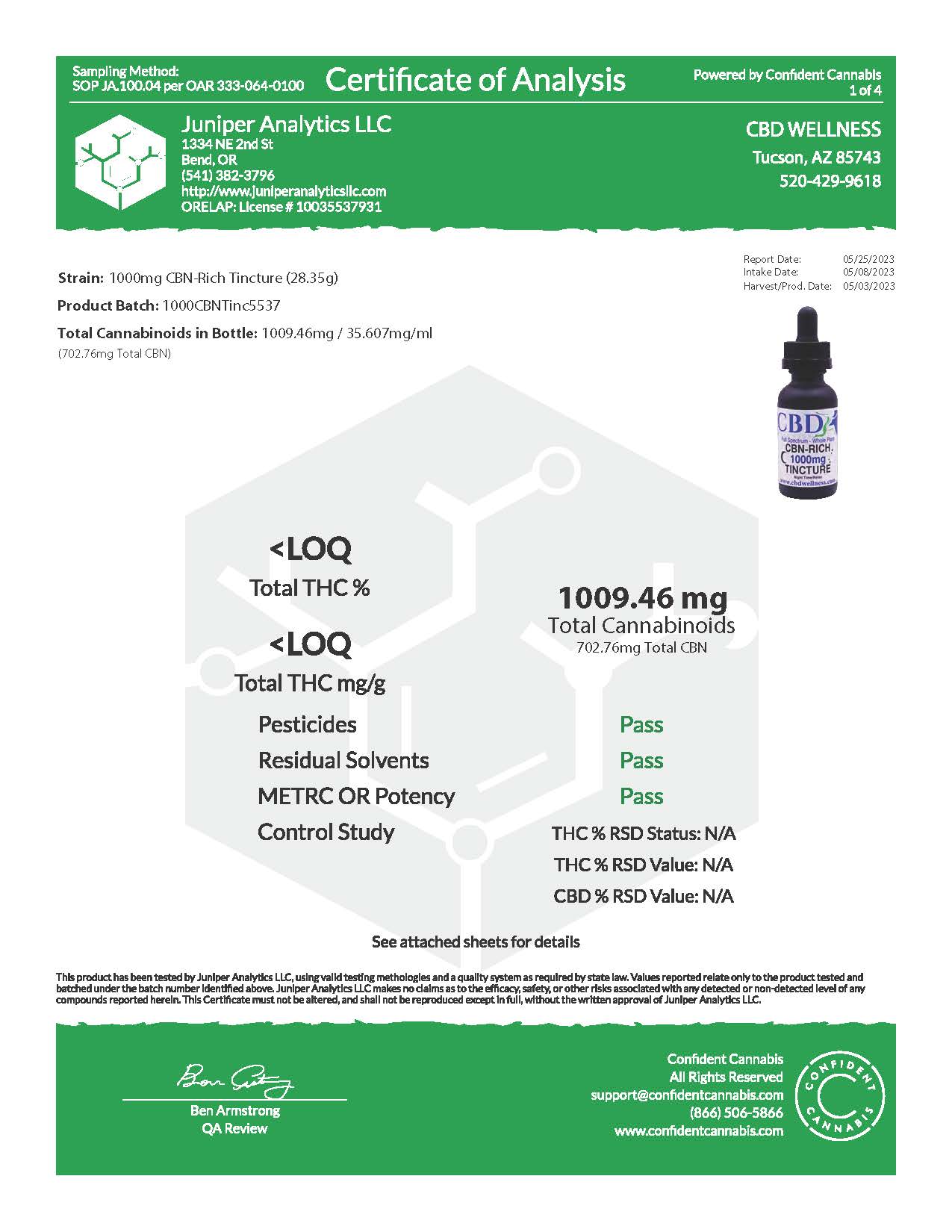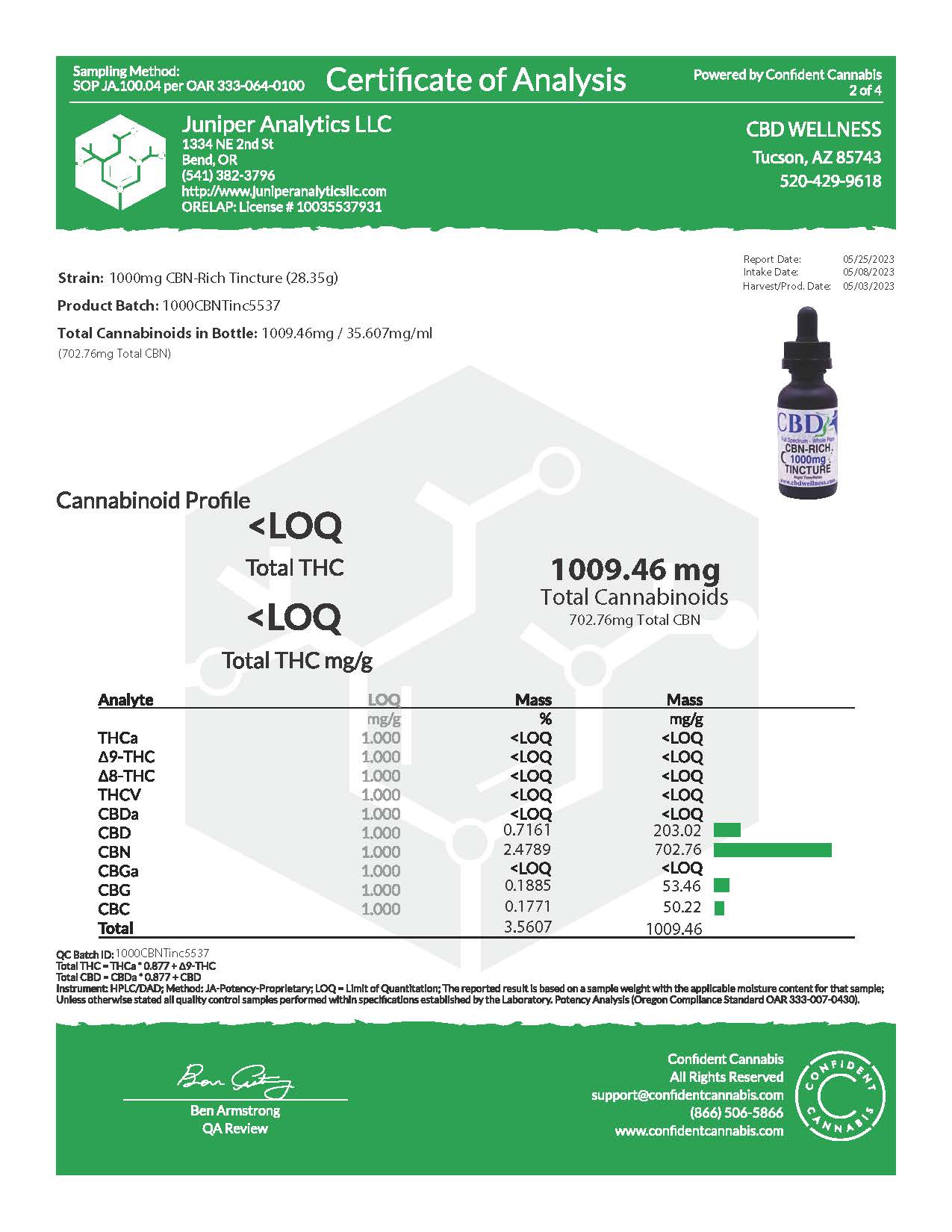 From seed to sale, each step of the process to make this premium formula has been observed with meticulous care. From sustainable cultivation and harvesting, to proprietary extraction, proprietary formulation from our Chief Scientist and good manufacturing practices, you can rest assured knowing you're getting the best of the best with all of our products.
Contains 0.3% or less THC

30 Day Satisfaction Guarantee

Free shipping on orders $50+
Doctor & Scientist Formulated
Each of our products has been carefully formualted by our Owner and Chief Scientist Dr. Matthew Scott PhD & DHSc.
FAQ: Tinctures
What are CBD Tinctures?

Botanical Tinctures have been used around the world for centuries. CBD Wellness tinctures are a combination of PCR (phytocannabinoid) CBD-Rich full spectrum extract, formulated in our proprietary, all natural, plant based, organic MCT (medium-chain triglycerides) oil.

We do not use any chemicals or additives.

Historically, tinctures were made using plant material soaked in alcohol. Alcohol separates the plant material from the plant's compounds and terpenes. Once soaked for several weeks, the plant material is strained out, leaving the plants concentrated compounds & terpenes in an alcohol base.
How are CBD Wellness tinctures made?

CBD Wellness tinctures are quite unique when compared to any other tincture on the market. Our Chief Scientist & founder spent years creating the scientific formulas for CBD Wellness.

We start by extracting CBD-Rich cannabinoids and terpenes from our organic PCR hemp using Supercritical CO2 extraction. The raw oil then goes through a distillation, filtering processes to further concentrate the CBD content. The extracted & distilled full spectrum CBD-Rich oil then gets infused in our MCT base oil. Our MCT base oil is made by extracting sunflowers which has similar compounds as cannabis. The MCT base oil then goes into a propriety process which includes the MCT base oil being chilled below freezing with our raw PCR hemp plants soaking. Once the freezing soak is completed the plant material is strained.

Once the MCT oil is ready, our CBD-Rich, full spectrum, distilled extract is then infused in. We use a unique process during infusion, which creates the highest bioavailability by shrinking the compounds down further for easy absorption into the blood stream.

Creating an all-natural, plant based, effective, CBD-Rich Full spectrum Tincture.

No Chemicals, No additives, No artificial flavors, no sugars.

Testing is done throughout the formulation and extraction process, as well as 3rd party testing for the final product.
What are CBD Tinctures used for?

Our CBD tinctures have a wide range of uses for health & wellness. Research is constantly evolving, finding new benefits CBD has.

CBD tinctures have proven to be effective in pain relief, reducing inflammation, appetite support, reducing nausea & vomiting, reducing intestinal spasms, anxiety relief, relaxant, reducing seizures and convulsions, suppressing muscle spasms, improving immune system function, regulating blood pressure, regulating blood sugar, preventing degradation of nervous system, helps psoriasis, reduces artery blockage, kills bacterial growth, reduces /inhibits / kills growth in tumors & cancer, and promotes bone growth. 

CBD also has many "ANTI" benefits, which means it helps issues from manifesting in the first place. CBD has the following known "ANTI" properties: anti inflammation, anti-anxiety, anti-cancer, anti-tumor, anti-aging.
How are CBD Wellness tinctures flavored?

CBD Wellness's Organic CBD-Rich full spectrum tinctures are formulated using only the highest-quality ingredients. The main flavor agent in every CBD tincture is organic plant-based terpenes.  We also use an organic carrier oil, our MCT oil improves absorption and effectiveness.
Why use CBD Tinctures?

Many choose to use CBD tinctures for their array of health & wellness benefits as well as to help countless issues & conditions. CBD tinctures are a fast-acting way to introduce CBD into your wellness routine. Since they absorb quickly, CBD tinctures are ideal for sudden triggers, supporting a good night's sleep, pain & inflammation, anxiety & stress, and so much more.
Is CBD oil the same as CBD Tincture?

No. CBD oil is the raw hemp extract—a viscous oil enriched with CBD-Rich phytocannabinoids, terpenes, and other beneficial compounds. When you formulate and infuse CBD with a carrier oil, such as our MCT oil it becomes a CBD tincture.
How do I use a Tincture?

Use the dropper bulb top to procure the desired dose. Take a dropperful (1ml = 20drops) under your tongue (sublingually) and swallow any remaining after 30seconds. We recommend using your desired dose at least 2xs a day (morning & night) and as needed.

Using CBD tinctures is a versatile way to improve your health & wellness or help alleviate issues & conditions. We recommend tinctures to be taken alone, but you can also add it to your favorite foods (after cooking) or drinks. Many also enjoy adding CBD tinctures to their coffee and salad dressings.
What's the difference between full spectrum vs broad spectrum vs isolate tinctures?

Full spectrum is a whole plant extract that contains all the cannabinoids and terpenes found naturally in cannabis. Full spectrum allows for the entourage effect, essentially making Full Spectrum the most effective product available.

Broad spectrum is created by further processing & refining full spectrum oil to further remove cannabinoids & terpenes, meaning it lacks many of the beneficial cannabinoids & terpenes responsible for the effectiveness associated with the entourage effect. Many times, Broad spectrum is touted as THC-FREE, which is supposed to be the main difference between full spectrum vs broad spectrum. However, many broad spectrum products still contain negligible amounts of THC, just less than the trace amount found in full spectrum (.3% or less).

Isolate is created by even further processing and filtering cbd oil, typically extracted from cheap, low cbd content, industrial hemp. Using harsh chemicals, oil is processed over and over to completely remove all cannabinoids, terpenes and any other remaining compounds which leaves cbd in its pure, crystal powder form.

Isolate is closer to a pharmaceutical than a botanical. Does not allow for the entourage effect, as such many users report these products don't work.

For more details, see our blog post, "The Difference Between Full Spectrum and Broad Spectrum and Isolate CBD."
Will CBD Tinctures get me high?

No, it's scientifically impossible. CBD Wellness's premium organic Full Spectrum CBD tinctures are derived from PCR hemp, which cannot elicit a psychoactive experience. Many users report a euphoric feeling when using our Tinctures, which can occur as CBD promotes homeostasis. CBD also mimics serotonin (feel good neurotransmitter and hormone). As such, it's believed that some users may confuse euphoria with being high. 
Are there any side effects from using CBD Tinctures?

No. There are no known side effects to using CBD tinctures. Taking high doses of CBD oil may induce a highly relaxed state or tiredness, especially if one lacks sleep. Initially taking high doses of CBD may cause bowl cleansing (laxative effects). As CBD builds up in your system, these possible effects will subside.
How many MGs should I take?

Everybody has different needs, tolerances, and preferences. We generally recommend minimally taking one to two full dropperfuls of CBD tincture 2xs a day (morning/night) and as needed throughout the day. Take more as needed.

For more information on how many MGs one should take to get started please click here to read our Beginners Guide to CBD.
How long does it take for CBD Tinctures to work?

Feeling the effects of CBD tinctures is dependent on a person's metabolism, diet, and tolerance to CBD, as well as the reason they are taking it. CBD tinctures work faster than other forms of CBD (such as gummies or capsules) because the CBD-Rich phytocannabinoids and terpenes get absorbed directly into the blood stream via sublingual (under tongue) administration. Some people might feel effects within minutes (especially for reducing stress and anxiety), while others may need to wait anywhere from 3 minutes to an hour.

If taking for severe issues or conditions, you will need to take higher doses regularly before noticing relief. This may take up to 7-14 days, which is why we always recommend using daily, on a regimen and not stopping. CBD will work, it's just finding the correct dose and regimen, which sometimes takes time.
How long do you feel the effects of a CBD Tincture?

Since CBD tinctures are absorbed quickly, that means we also metabolize the phytocannabinoids faster. While you may feel benefits of CBD tinctures for up to eight hours, the benefits of CBD tinctures tend to last between four and six hours.
How long does CBD stay in your system?

Typically, activated CBD cannabinoids remains in your system for one to two days. Depending on how much CBD you use, it could remain in your system for up to a week.
What is the shelf life of CBD Tinctures?

All of our tinctures have a 1 year shelf life from when they were made. All products have a batch sticker, which has the expiration date.

Store your CBD tincture in a dry area and out of direct sunlight.
What does the MG amount mean on CBD tinctures? What's the difference?

The MG amount listed on our tinctures represents the total activated amount of CBD in that product. Our tinctures come in 1oz (30ml) bottles but vary in CBD concentration.
More Questions?

Our CBD Wellness educators are standing by ready to help. Call or text (520)-429-9618 or email us at contact@cbdwellness.com